+ + + Downloads are available again (13 Apr 2023) + + +
ANVIL is a free video annotation tool, developed by Michael Kipp. It offers multi-layered annotation based on a user-defined coding scheme. During coding the user can see color-coded elements on multiple tracks in time-alignment. Some special features are cross-level links, non-temporal objects, timepoint tracks, coding agreement analysis, 3D viewing of motion capture data and a project tool for managing whole corpora of annotation files. Originally developed for gesture research in 2000, ANVIL is now being used in many research areas including human-computer interaction, linguistics, ethology, anthropology, psychotherapy, embodied agents, computer animation and oceanography.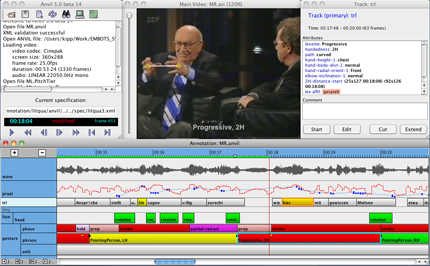 ANVIL can import data from phonetic tools like PRAAT which allow precise and comfortable speech transcription (see my video tutorial). Anvil can display waveform and pitch contour. Anvil's data files are XML-based. Exported tables can be used for analysis in statistical toolkits like SPSS or Statistica. The coming version will also be able to import ELAN files. ANVIL is written in Java and runs on Windows, Macintosh and Unix platforms. The newest version is ANVIL 5, see the list of Anvil 5 features.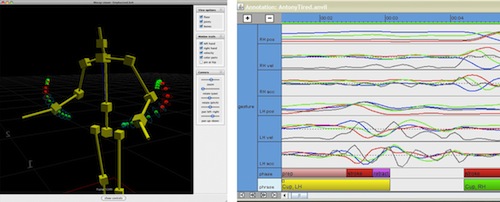 See our publications page for information on how to cite Anvil in your publications and for published related work.
Here's a talk I gave in November 2010 for a scientific audience (CNRS-GDR Paris) where I explain many of the concepts and features of ANVIL (switch to full-screen by double-clicking). For a more systematic introduction watch the ANVIL tutorial videos.
Feel free to also download the slides as PDF.